Brazilian Jiu-Jitsu in Alameda for kids and Adults of all ages and levels!
Brazilian jiu jitsu academies are a collection of almost every type of person you can think of –
Toddlers,Kids ,Teens, doctors, lawyers, Moms and dads ,students, law enforcement,Adults, businessmen and women, and more.
Every day they walk into the academy for the same reason – to get better at BJJ.
Bound with your family in another level…Fun games,fun drills to practice with the entire family!
These same people walk into the academy every day and improve their health, learning ability, and stress levels.
Professor Sergio Silva start a practice of Jiu-Jitsu in the year of 1991 when he was a brown belt in judo under his uncle Edgar Barreto!
They may not be thinking about the many benefits of BJJ that cannot be seen, but it doesn't matter if they can see them or not – they are happening. To me, what you can't see is really what the Brazilian jiu jitsu lifestyle is about.
It's taking the lessons learned on the mat and applying them to your everyday life.It's one of the main reasons why BJJ is commonly compare with the game of Chess. Every move or technique has a consequence that turn into a beautiful game of strategy through Brazilian Jiu-Jitsu.
Professor Sergio Silva training with professor Evanri Gurgel back in the year of 2010.
Professor Sergio Silva is a former World Champion of Submission Wrestling and a multiple times Natioanal and International Champion in Brazilian Jiu-Jitsu and Mixed Martial Arts.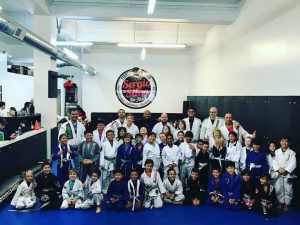 Professor Silva always states:
"-The art of Brazilian Jiu-Jitsu it's a science of Martial Arts where the person thinking ahead not always win but for sure has a much larger advantage …"
We offer After School Martial Arts Program,Toddlers Martial Arts,Kids Brazilian Jiu-Jitsu,Juniors and Teens Brazilian Jiu-Jitsu,Women Brazilian Jiu-Jitsu,Adult Brazilian Jiu-Jitsu,Seniors Brazilian Jiu-Jitsu,Law enforcement Brazilian Jiu-Jitsu,Private sessions,